SCAM ALERT FOR VENDORS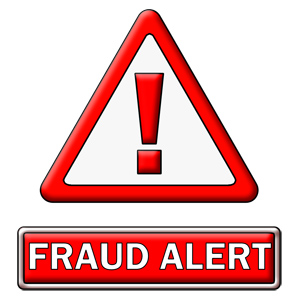 As per our privacy policy, Marketplace Events is a permission-based email sender. We do not share, rent, or sell any email lists.
There have been a number of spam emails offering our attendee lists. These are scams and the senders are unauthorized to use the Marketplace Events' name. These scammers are attempting to receive monies from exhibiting companies without providing anything in return. These emails are not approved by Marketplace Events, and Marketplace Events would never ask for bank information or other sensitive information over email.
CLICK HERE for more information.
The vendor kit is not mailed out. all information can be found here.


GEMS Show Decorator (carpet, chairs, tables, etc.)
Online Ordering Here or contact Jill Zinkus 214.388.5722 x1


ELECTRICAL SERVICES
Online Ordering Here or contact Exhibitor Services 303.228.8027


INTERNET by Smart City
Order on-site at the service desk


Remember holiday décor is required to be incorporated in your booth space
ENHANCE YOUR COMPANY'S ONLINE VENDOR LISTING
Your basic listing will be uploaded to the website when you book your booth. Within 24 hours you will receive an automated email to enhance your listing. This link can be used multiple times and you can make updates and changes to your listing until ONE day after the show commences. If you have any questions regarding the online vendor listing or do not receive the link, please email our digital support rep, JenK@mpeshows.com.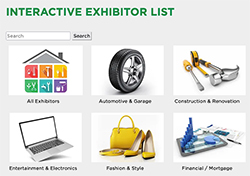 Need help with your listing?
View the tutorial video - https://youtu.be/ecSxq1oKuYg and the FAQs.
To see some samples, visit the Interactive Exhibitor List section of the website.
Learn more about the benefits of creating your enhanced listing.
Go from basic to ENHANCED!
Food & Beverage Sampling and Sales

Both the City of Denver & the Colorado Convention Center each have requirements for all vendors selling and/or sampling food during the show.
The City Of Denver
The Colorado Convention Center - Sodexo Live!
Food should be packaged and sold in a way that it is not consumable on-site otherwise the vendor will be subject to 30% fee on all sales

FAQs
If sampling, food has to be protected from cross contamination and a hand washing station will need to be readily available.
Handwash stations are not provided by the facility, nor available to rent from the facility. Vendors must bring their own.
Water for handwashing has to be 100 – 120 degrees Fahrenheit with soap and paper towels.

Ice is available for purchase
Denver Disposable Bag Fees
Per Denver's Fee on Disposable Bags (Chapter 48, Article IX of the Denver Revised Municipal Code), retail stores shall impose, collect, and account for a fee of $0.10 on every disposable bag provided at checkout for the purpose of transporting goods. Retail stores are required to remit $0.06 of the fee collected on every disposable bag to the City and County of Denver on a quarterly basis.
For more information Click Here to be redirected to the City and County of Denver's website or email questions to bringyourownbag.finance@denvergov.org.
How to Complete the Bag Fee Remittance Form
SHOW HOURS
| | | | |
| --- | --- | --- | --- |
| | | | Vendor Restocking Access |
| Friday | November 3, 2023 | 9:00 am - 7:00 pm | 8:00 am |
| Saturday | November 4, 2023 | 9:00 am - 7:00 pm | 8:00 am |
| Sunday | November 5, 2023 | 10:00 am - 5:00 pm | 9:00 am |
Move-Out
General Move-Out Hours for 2023:
Sunday November 5th 5:01 to 11:59pm

Note: Dismantling of displays is not permitted until 5:01 pm on Sunday. All displays and personal items must be cleared out of the convention center no later than Sunday at 11:59pm.
*** There is no Monday move out this year. The Denver Christmas Show must be cleared out on Sunday night. ***
Preferred Hotel Information
Homewood Suites by Hilton Denver Downtown-Convention Center
550 15th Street
Denver, CO 80202
303.534.7800
RV Parks Denver
Dakota Ridge RV Park (15-20 minutes west of downtown)
17800 West Colfax Ave., Golden, CO 80401
303.279.1625
Chief Hosa Lodge & Campground (25-30 minutes west of downtown)
27661 Genesee Drive, Golden, CO, 80401.
303.526.1324
Denver Meadows RV Park (15-20 minutes east of downtown)
2075 Potomac St. Aurora, CO 80011 **this is bare bones campground, informal washroom & laundry**
303.364.9483
Prospect RV Park (15-20 minutes northwest of downtown)
11600 West 44th Ave. Wheat Ridge, CO 80033
303.424.4414
Barr Lake RV Park (15-20 minutes northeast of downtown)
17180 East 136th Ave. Brighton, CO 80601
303.659.6180 or 800.655.9234
Flying Saucer RV Park (15-20 minutes southwest of downtown)
2500 West Hampden Englewood, CO 80110
303.789.1707
HOLIDAY BOUTIQUE SHOP 2023
The Holiday Boutique SHOP will be available to all holiday show vendors in 2023!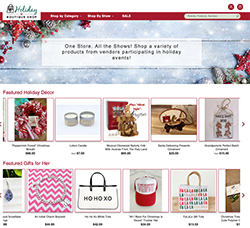 One store, ONLINE. All the shows! Opening on August 15th, the shop will be promoted to multiple markets and display products from sellers across multiple shows – that means more shoppers! If you have yet to receive your invitation to be a part of a brand-new way to connect with shoppers online and beyond the show floor, connect with us. Reach out now to receive your invitation to start selling at HolidayBoutiqueSHOP@mpeshows.com.
SOCIAL MEDIA
#LetsGetSocial
Share your show pics or your holiday décor and celebrations with us.
Hashtags: #DenverChristmasShow

In efforts to protect potential joint customers from fraudulent events and scammers, we request that you do not create your own Facebook Event. This helps us manage ticket sales for the event, and ensures that our team are available to support both exhibitors and potential attendees with any questions, comments, or concerns that they have. Please feel free to reach out to your show manager or show marketing manager with your companies' Facebook page and we can add you as a co-host to the official event.
Click Here to go to our Facebook Event for 2023.
Click Here for the Social Media Marketing Kit